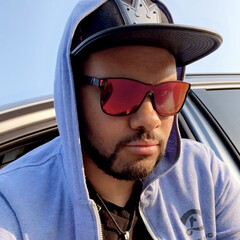 Kenton Reynolds
3D Artist & Animator
Grand Rapids, United States
Summary
~Just a guy with a big dream, and a bigger imagination~
Hello! My name is Kenton Reynolds, and I enjoy turning ideas into reality. I am a digital artist, dubstep enthusiast, and cheeseburger connoisseur who strives to put 110% in everything I do. There is always something new to learn, and being in this industry, I am determined to discover as much as I possibly can.
"Shoot for the moon. Even if you miss, you'll land among the stars." ~ Norman Vincent Peale
Skills
Digital Painting
3D Animation
3D Modeling
Character Modeling
Digital Sculpting
Character Animation
Software proficiency
Experience
3D Experience Artist & Integrator at CARNEVALE

Grand Rapids, United States of America

Company's first in-house 3D artist to create models, animations and concepts for AR, VR, XR, apps, connected devices and beyond while developing an innovative 3D pipeline that will push creative boundaries and result in stunning experiences for the masses.

3D Artist at Dart Frog Creative

Grand Rapids, Michigan, United States of America

Collaborate with a professional group of artists to create 3D interiors and environments for manufacturers, architects, design firms and agencies.

3D Art Intern at Reset Studio

Kalamazoo, Michigan, United States of America

Created and modified character models, textures, animations, and FX while working closely with art directors to help govern visual and artistic direction.